Scotia Jean Russell
June 27, 1934 - October 9, 2021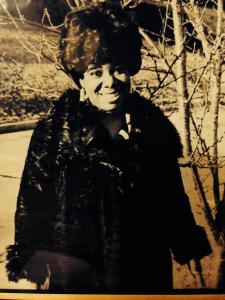 Scotia Jean Russell
Journey of Life

Scotia Jean Russell affectionately known as "Jean" by her family and friends was born June 27, 1934, to the late Edna Thomas in Cherryville, North Carolina. She was raised by her grandparents the late Walter and Essie Mackson.
Her Christian Heritage began at Fairview Baptist Church. She attended John Chaos School in Cherryville, NC. After the death of Walter Mackson, the family moved to Washington, DC, where she was reunited with her parents James Edward Thomas and Edna Thomas. While in Washington DC, she attended Francis Jr. High and Armstrong High School. After moving to Washington DC, Jean joined the Ministry of Jehovah Witness and was a member for over 50 years.
In the 1950's, Scotia Jean met and married the late Eddie Lee Russell. Their family union consisted of twin girls (Colette and Cosette), Gary and Gregory Russell.
Scotia Jean's career started around 1960 as a Domestic Worker, serving a host of Doctors, Lawyers, and Entrepreneurs who later became lifelong friends. In addition to helping families, Jean was employed at University of Maryland College Park. After leaving the University of Maryland, she became employed with the United States Senate on Capitol Hill in Washington, D.C.
She was a loving, caring mother, aunt grandmother and friend. She was adored by family, friends and all that knew her. She was a "Fashionista" with hats and jewelry for every occasion. She took great pride in looking and being her very best. She enjoyed traveling, cooking, baking, dancing and having a good time with friends and family. Every year as long as we can remember, she cruised to the Caribbean, flew to Hawaii, Kentucky and other Countries. She enjoyed watching her favorite shows: The Young & The Restless, The Price is Right, Wheel of Fortune, Family Feud and Dancing with the Stars just to name a few.
Scotia Jean was preceded in death by her parents, James and Edna Thomas, husband Eddie Lee Russell, Betty Lipscomb (sister), Colette Smart (daughter), Harriett Williams (niece) and Steven Evans (Grandson).
She leaves to mourn 3 adult children: Cosette Derr, Gary Russell, and Gregory Russell of New York City; seven grandchildren, Malinda, Tyrone, Shannon, Maurice, Vonsele, Gary (Shawn) and Akila; 12 great grandchildren; five great-great grandchildren, one sister Patricia Wells, one brother-in-law Samuel Wells, two sister in-laws Doris (Dot) Edmundson and Margaret (Tootie) Bynum and a host of other relatives and lifelong friends.
Scotia Jean was a surrogate Grandmother to Tiffany, India, Frankie, Willie Floyd, Jamal Williams, Taj Williams, Kwesi Williams, Imhoptep Williams, Agyei Williams, and Jumoke Williams.
October 29, 2021
10:00 am- Viewing
St Martins Cath Chur
St Martins Catholic Church of Tours
1908 North Capital Street, Washington, DC 20002
Washington, DC 20002
Get Driving Directions
October 29, 2021
1:00 PM
Interment
Harmony Memorial Cemetery Park
7101 Sheriff Road,
Hyattsville, MD 20785
Get Driving Directions
October 29, 2021
Following Interment
Repast
St. Luke Catholic Church
4925 East Capital St. NE.
Washington, DC 20019
Get Driving Directions
Share this Obituary:
Support the family of
Scotia Russell