Joy Ramona Waters
July 7, 1929 - March 9, 2019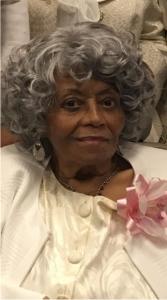 On Saturday, March 9, 2019 at approximately 1:07 in the morning at the Shady Grove Adventist Hospital of Rockville, Maryland, God extended His mighty hand of love and gently
SECURED JOY RAMONA CAMPBELL WATERS
to a Home of everlasting Joy, Peace and Happiness; she was 89 years old.
Joy was born in Youngstown, Ohio on July 7, 1929 to Dorothy Natalie Campbell and Paul Clyde Bailey.

She was raised by her grandmother, Marjorie Cicely Dayton, affectionately called "Ganna" and received her education in the New Castle Public Schools.

She was married to John Roger Waters, Jr. on March 14, 1947.

Nine children were born to this union. They were the center of her life and she was the center of theirs.
Joy was employed at Jameson Memorial Hospital where she worked as a nurse's assistant. In Pennsylvania, she was a member of St. John UHC Church in New Castle.

She was a member of the Hospitality Ministry, where she was often asked to prepare her signature 'Macaroni and Cheese' dish for church events. In Maryland, she was a member of United Hearts Christian Community Church.
She lived a full life, enjoying cooking, bowling, drawing, dancing, listening to jazz, family gatherings, family road trips and church events.

Joy was a beautiful spirit.

She was always impeccable regarding her appearance and would get dressed up to go to the grocery store. She would often ask her daughters, "do my eyebrows look right?"
Joy embraced her role as wife, mother, grandmother, sister and aunt. Through her infectious laughter and love for fun, she imparted beauty to all through her love of life unselfishly dedicating herself to her husband, children, grandchildren and great grandchildren. She put the "Grand" in Grandmother.
She was a woman of wisdom.

One of Joy's greatest gifts was to teach her family about God, and the love of Jesus, through prayer and faith. Her advice to her family was, "Read your Bible, Call on Jesus and Trust in the Lord."
She faithfully watched over her daughter Denise, who put a sparkle in her eye and provided loving companionship.
The Lord smiled upon Joy early Saturday morning saying,
"Well Done My Good Faithful Servant "
She leaves to cherish her loving memory, eight children, Deborah, Denise, Doreese, John, III (Tammy), Dianna, Dorjoyre, Darcella and Donnette; Twenty-four grandchildren; Shawnelle, Erik, Darrick, Marcus, Anthony, James, LaShawna, Damion, Javon, Derrian, Kristopher, Cameron, Brooke-Ellynne, Ramona, Miranjani, Muriah, Rojhan, Romero, Nichalet, Nickaela, Royell, Rian, Rakail.

Thirty-three great grandchildren, sixteen great-great grandchildren; and siblings Geraldine, Shirley, George, and Lorenzo.
Joy's transition was preceded by that of her husband over 40 years, John R. Waters, Jr; her daughter Delsa; three grandchildren, Torrance, Elena and Ciara; and one great grandchild, SaVaughn; her father, Paul C. Bailey; her mother and stepfather, Dorothy and Anderson Wise; her grandmother, Marjorie C. Dayton; and her siblings, Charles, Loralie, Anderson Jr., Thomasena, Cleveland, Cornelius, Robert and Beverly.
Joy will be truly missed by all who loved her dearly
R.N. Horton Company Morticians, Inc., 600 Kennedy Street, N.W., Washington, DC 20011
J.E. Washington Funeral Services, Inc., 2234 Glenwood Avenue, Youngstown, OH 44511
March 19, 2019
10am
Viewing
Norbeck Community Church
2631 Norbeck Road
Silver Spring, MD 20906
Get Driving Directions
March 21, 2019
10am
Funeral Service
Jubilee Ministries
14 E. Charles Street
New Castle, PA 16101
Get Driving Directions
March 21, 2019
Interment
Parkside Cemetery & Mausoleum
2809 Old Pittsburg Road
New Castle, PA 16101
Get Driving Directions
Share this Obituary:
Support the family of
Joy Waters