Veronica Lomon Smith
July 30, 2016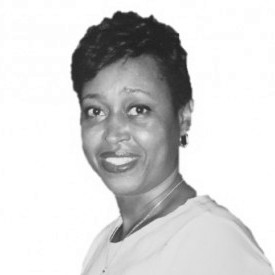 Veronica "Ronnie" Lomon Smith transitioned peacefully on Saturday, July 30, 2016 in Raleigh, NC after her valiant fight with cancer for over 2 ½ years. Her strong will to live and the love for her family kept her in high gear to stay the course for treatment throughout her struggle.
On Saturday, August 4, 1956 in Statonsburg, NC, a beautiful brown-eyed (and slightly slanted) baby girl was born to Louise Best and Robert Pittman. As you can imagine, Louise was exhausted after over 20 hours of labor and childbirth - but managed to keep her strength and excitement to be officially introduced to her new little darling baby girl. This was until the nurses brought in baby Veronica. Imagine the nurses shock and amazement when Louise became adamant that this WAS NOT her baby and thought babies had been switched in the nursery. Louise stated, "ma'am, this baby looks Chinese!" Needless to say, there wasn't a mix-up and indeed baby Veronica and Louise were a match made in heaven.
When Veronica was three, her family migrated to Washington, DC, which later became home. Veronica was the oldest of seven kids – all raised by Louise around the 14th & U Street area of the city. In her early years, Veronica helped care for her siblings while mother Louise worked day and night to provide a good living. Veronica had great leadership qualities and a simple, yet take charge demeanor. She always asserted her position of being the leader with her siblings, especially while they were in her care. There are numerous stories of Veronica and her siblings having fun, growing up together and wreaking havoc at home (these kids were BAD!), while mother Louise worked tirelessly to provide food on the table. So as you can imagine, there was lots of disciplinary action when Louise came home (if there was a house to come home to as I think one house burned down at the hands of her lovely kids). Needless to say, there was never a dull moment in the Best family.
Veronica graduated from Cardozo Senior High School and pursued a career as a Dietitian in the healthcare and food service industries. She worked over 40 years with the government and private sector firms until retirement. Veronica had a passion for cooking, gardening and entertaining family and friends. She would engage you with her stories of the ole days that would have you painfully laughing for hours. She loved her kids and grandkids and they loved her. Her signature gift of joy displayed through her constant smiling, laughter and joking around, will never be forgotten.
Veronica's legacy will live on by the family she loved so much: Her mother, Louise Davis and her step-father Edward Davis (deceased), her husband, Frank Smith II, her daughter, Natalie May, her son, Frank Smith III, three grandchildren, Kenneth, Nisa, and Isaiah; four sisters, Cynthia, Darlene, Ruby (deceased), Pauline (deceased), two brothers, Eddie (sister-in-law, Sharon) and Timothy; nieces, nephews and a host of relatives and friends.
If God has a sense of humor, and we all know he does, he's going to enjoy the laughter and entertainment of his newest angel, Veronica "Ronnie" Smith.
August 5, 2016
11:30 a.m.
Viewing
Walker Memorial Baptist Church
2020 13th Street NW
Washington, DC 20009
Get Driving Directions
August 5, 2016
12:00 p.m.
Funeral Service
Walker Memorial Baptist Church
2020 13th Street NW
Washington, DC 20009
Get Driving Directions
Share this Obituary:
Support the family of
Veronica Smith