Barbara Jean Simms
November 11, 1934 - July 15, 2020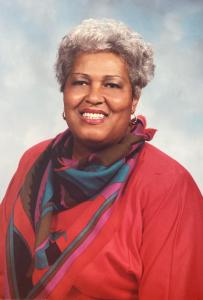 Barbara Simms Life Journey
Barbara Jean Hall Simms was born on November 11, 1934 to the late
Frederick T. Hall and Sarah Walker Ross Hall in Washington, DC. The
youngest of ten siblings, Barbara was a strong leader, compassionate in her
faith, and loving to all her family and friends. She was baptized in 1940 at Mt.
Airy Baptist Church of Washington, DC, under the late Rev. E.K. Tyler.
She attended the public schools of the District of Columbia and graduated from
the prestigious Paul Lawrence Dunbar Senior High School in 1952. She
continued her studies at D.C. Teachers College where she dreamed of
becoming a physical therapist. However, Barbara made the decision to end
her studies and seek employment because she was determined that her
aging parents would live out their final years in a home of their own – a
dream she was able to achieve and that home, affectionately known as
"5030," was the Walker-Ross-Hall family hub for many, many years.
Barbara worked for thirty years at the Department of Interior as an
administrative assistant. She retired in 1983 to help care for her
grandchildren and family. Her love of family was evident in how she opened
her home and heart. Her nieces and nephews could count on her to provide a
place to stay a few dollars in their pockets, a good meal, and some advice to
help you get it right. Barbara cared for her siblings, especially her brothers
the late John Ross and the late Rev. James Hall, and her sister, the late
Dorothy Raymond, fulfilling a promise she made to her dying mother. Her
bond with her sisters was incredible, singing along with her sister Dorothy
Raymond with the Seven Sisters ensemble, serving along with her sister
Vivian Armstrong at Mt. Airy, and attending church, traveling, and shopping
with her sister Grace Minor. She loved her sister Bernice Ross Harrod and
youngest brother Frederick "Freddie" Hall who died less than a year apart
when she was a young teenager.
Barbara served her church community for over 70 years until her health
declined. She was known for her strong alto voice having sung in various
choirs that included the Chapel Choir, Second Choir, Sanctuary Choir, the
Seven Sisters. She faithfully attended Sunday School, served in numerous
church ministries – the financial secretary, administrative secretary for the
late Rev. Dr. Rafe M. Taylor, and co-headed the church's progressive Feed
the Hungry outreach program in the 90's that served the city's homeless
every month with meals cooked from the heart. Barbara also served as an
administrative secretary to the late Rev. Morris L. Shearin of Israel Baptist
Church in Washington DC.


Barbara married the late James Simms and from that union came her only
daughter, Janelle A. Simms. She cherished her role as mother and provider
and worked to ensure her daughter had everything she needed and was able
to earn what she could not, a college diploma (University of Maryland,
College Park), which she proudly displayed in her home for everyone to view.
Barbara instilled in her daughter a strong work ethic, a powerful alto singing
voice, and most importantly a love for the Lord and the work of the Kingdom.
Barbara's next act as a grandmother and great-grandmother allowed her to
continue to instill in her family a strong legacy of service to God and the local
church, service to family and community, and seizing the opportunities that a
strong work ethic and higher education can provide. Her love for her "girls"
Danielle and Chanelle, and her only grandson Michael went unmatched.
She was their grandmother, cook, chauffeur, cheerleader, disciplinarian (when
needed), financial advisor, prayer partner, spoiler, and friend. In her later
years, Barbara became a great-grandmother to four boys, and even when
her health began to fail, she made sure they all stayed in line. She delighted
in visits with her family and even her last few days on earth, she shared a few
laughs with her daughter, granddaughters, and great-grandsons.
July 31, 2020
11:00 AM
Funeral Service
R N Horton Funeral Home
600 Kennedy St, NW
Washington, DC 20011
Get Driving Directions
July 31, 2020
10:30 AM
Live Streaming
www.rnhorton.com
Horton Chapel 600 Kennedy Sts, NW
Washington, DC 20011
Get Driving Directions
Share this Obituary:
Support the family of
Barbara Simms