Lena S. Oliver
September 5, 2015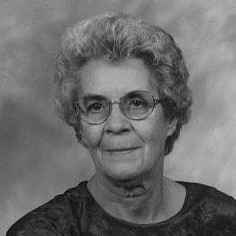 Lena S. Oliver, 87, of Front Royal, VA, passed away at her home on Saturday, September 5, 2015.

A funeral service will be held on Thursday, September 10, at 2:00 p.m. at Maddox Funeral Home conducted by Rev. Buzz Moore and The Rev. C. Marc Roberson. Burial will follow in Prospect Hill Cemetery.

Mrs. Oliver was born April 15, 1928 in Rileyville, VA, daughter of the late Benjamin and Edith Wood Seekford. She worked for Avtex Fibers for 32 ½ years and then became a cook for Royal Haven Rest Home for another 10 years. She was a member of Howellsville United Methodist Church and Front Royal Women of the Moose, Chapter 1194. She was the wife of the late James Lynwood "Smokey" Oliver, Sr.

Surviving are one son David Manley Oliver and wife Patricia of Front Royal; one daughter Patricia Ann Whited and husband Jimmy of Front Royal; five grandchildren Ronnie, Dwayne and wife Bobbie Jo, Paula and husband Kevin, Billy, and Josh; eight great-grandchildren Stacey, R.J., Evan, Lucas, Zach and wife Brittany, Jacob, Leslie, and Timmy; and two great-great-grandchildren Ellie and Deni. She was preceded in death by a son James L. Oliver, Jr.; three brothers; and two sisters.

Pallbearers will be Dwayne Whited, Ronnie Whited, Burt Sours, Bobby Perry, Billy Perry, Evan Whited, Barry Williams, and Kevin Fristoe.

Honorary pallbearers will be Grandchildren, Great-grandchildren, great-great-grandchildren, Robert Seekford, James Ray Revells, Bobbie Jo Whited, and Donna Sours.

The family will receive friends on Wednesday, September 9, from 6:00 to 8:00 p.m. at the funeral home.

In lieu of flowers, memorial contributions may be made to Blue Ridge Hospice, 333 W. Cork St., Winchester, VA 22601 or to Front Royal Volunteer Fire Department and Rescue Squad, PO Box 567, Front Royal, VA 22630.


September 9, 2015
6:00 - 8:00 p.m.
Visiting
Maddox Funeral Home
105 W. Main Street
Front Royal, VA 22630
Get Driving Directions
September 10, 2015
2:00 p.m.
Funeral Service
Maddox Funeral Home
105 W. Main Street
Front Royal, VA 22630
Get Driving Directions
September 10, 2015
Burial
Prospect Hill Cemetery
200 W. Prospect Street
Front Royal, VA 22630
Get Driving Directions
Share this Obituary:
Support the family of
Lena Oliver