Philip MacBain
November 11, 1924 - November 4, 2015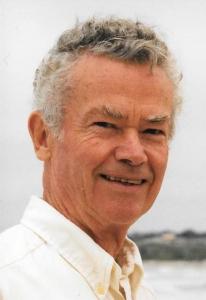 Philip MacBain, aged 90, of Monterey CA, passed away peacefully on Wednesday, November 4, 2015, at Carmel Hills Care Center.
Philip was born November 11, 1924 to Alexander and Florence (Ashment) MacBain, in Highland Park MI. He graduated from Berkley High School, Berkley MI in 1943, and then two months later entered the US Army. Following Central Signal Corps School at Camp Crowder, his military occupational specialty was Repeaterman; his duties were to install and maintain long distance telephone and teletype circuits with the 933rd SSB in Louisiana and the 1715th SSB on Luzon, Philippines, Okinawa and Tokyo. He was honorably discharged in 1946.
He married Sharon Louise Cannon (St Clair Shores MI) in Royal Oak MI on September 17, 1949. They had two daughters, Mary (1952) and Wendy (1955).
Philip attended Highland Park Jr College in 1946-7 in a work-study program with Chrysler Corporation that included machine shop, metallurgical lab and lubricants lab assignments. He subsequently was hired as a detail draftsman in the Central Engineering Division's Automotive Electrical Design Dept. He held a variety of production leader and supervisory positions, ultimately as Managing Engineer of Production Car Electrical Design Department in 1956. In 1958 he resigned and moved his young family to the "promised land" of Santa Clara CA, for a new career with FMC Corporation. While working as Senior Machine Designer in the Ordnance Engineering Division, he also attended night school at Foothill College, graduating with AA (Electrical Engineering curriculum) in 1963. Projects at FMC included M113 Armored Personnel Carrier, Landing Craft-Assault (LCA) amphibious vehicle for Navy, Landing Vehicle-Hydrofoil (LVH) for Marines, two commercial hydrofoils and Marine Corp landing vehicles LVTPX12 and LVTCX2. In 1969 he was promoted to Associate Staff Engineer and Project Leader for a design handbook, Military Vehicle Electrical Systems, for Army Material Command. Philip was again promoted to Staff Engineer (1974) and Electrical Section Supervisor (1977). With goals of raising his level of education and supplementing his intuitive managerial abilities, he completed his BS in Business Administration at University of San Francisco, 1978.
Philip retired from FMC in 1979 and took a job at ESD for a few more years, working on projects such as a robotic controlled camera for inspection of aircraft fuselage compartments for cracks. He and Sharon then moved from Santa Clara to Sedona AZ in 1988. They returned to CA, settling in Marina, in 1990.
Philip's life was lovingly occupied by family… his wife and daughters were his main priorities, and he remained close to his immediate and extended family members; home… he excelled at landscaping, taking great pride in caring for our lawn and gardens, as well as creating outdoor living spaces, an art studio room addition and a combined laundry/dark room; church… he served on the Board of Directors and helped build a new sanctuary for Unity Church in San Jose CA; community… served on Board of Directors and management of Kona Kai, our neighborhood swim & racquet club; travel… including road trips to Yosemite, Lassen, Bryce Canyon, Zion and Grand Canyon National Parks, family visits to Tucson and Detroit, and vacations with Sharon to Hawaii and Alaska; photography… to everyone's delight, he was the family "cinematographer" with his Revere 8mm home movie camera, then later became proficient in color photo developing; and golf… participating in work leagues and playing short courses with Sharon.
A knowledgeable and patient teacher, Dad was always there to help and encourage us with homework. Forever the lark, he loved leaving at the crack of dawn for the many family road trips, watching the sun rise. And, a true Scotsman, he never missed that early morning bowl of oatmeal. He loved listening to us playing his favorite Scottish folk songs on the piano, reminiscent of listening, as a child, to his dad. A creative designer, he kept busy with home projects. His sense of humor and rational, easy-going nature led to his roles as peacemaker at home and mentor to our friends and neighborhood kids. Most of his retirement years were devoted to caring for Sharon, as she became increasingly debilitated by multiple chemical sensitivities. He was a problem solver and took on the challenge of finding ways to make her life comfortable during her illness. During this time, he discovered a new hobby of Haiku poetry and composed several poems. He also enjoyed learning some conversational Spanish and finding new friends with whom to practice.
Philip is survived by his daughters Mary Koehn (Bayfield CO) and Wendy MacBain (Gilroy CA), his brother Ronald MacBain (Tucson AZ), in-laws in MI and NY, and cousins in Canada and England. Cremation has occurred. A small family gathering and scattering of ashes of both parents will be held in the Spring of 2016. Our deepest gratitude goes to Carmel Hills Care Center (Monterey CA) for their skilled and loving care of Dad for the past 3½ years.
Share this Obituary:
Support the family of
Philip MacBain