Walker B. Johnson
February 7, 2014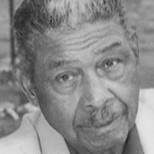 Mr. Walker B. Johnson was born December 11, 1917 in Conway, SC.

He was one of 3 children born to the late Sarah Bryant. He was preceded in death by his Wife, Nancy Johnson.

Mr.Johnson quietly and peacefully made his transition on Friday, February 7, 2014.

Walker migrated to Hopewell, VA and later moved to Washington, DC.

Walker attended Howard University school of Engineers.

Being the inspired business man he was, he opened up his first business as a Gas Station owner. Years later he opened up The Flamingo Playmate Club, which was the stepping stone for many of today's famous known artists. If they came to The Howard, then they likely came to Flamingos.

In 1985, Walker received a certificate of Congressional Recognition as the Chief Inspector of the DC Boxing & Wrestling Commission of Washington, DC.

As the Boxing Commissioner, he worked with legends like Muhammad Ali, Joe Frazier, Sugar Ray Leonard, and Michael & Leon Spinks.

Walker later started up his Cadillac Taxi-Cab service. He loved Cadillacs and owned a fleet of them.

In 1944, Walker received a Certificate of Recognition for Patriotism And Unselfisness In Serving Civilian Defense in the District of Columbia During World War II.

Walker became a member of Greater Friendship Baptist Church in 2007. He remained a faithful member and attended church until his illness prevented him from going.

Hewas a member of The Masons lodge Felix #3 PHA, Washington DC Jurisdiction. He also was a member of Mecca #10.

He is survived by his loving daughter, Linda Thompson, of Washington, DC. 2 grandchildren, 5 great grandchildren, Cousin Calvin Bryant, great niece & nephew Kim Rodriquez, Juan Barnes, Danita Cobbs & Deon Mullins,
great great nephews and a host of other family members & friends.

Long time special friends Chuck Garrett, BenSmalls, Charlie Moore.
February 13, 2014
3 - 6 p.m.
Wake
Horton Funeral Home
600 Kennedy Street NW
Washington, DC 20011
Get Driving Directions
February 14, 2014
10:00 a.m.
Funeral Service
Fellowship Baptist Church
5605 Colorado Ave NW
Washington, DC 20011
Get Driving Directions
February 14, 2014
Interment
National Harmony Memorial Park
7101 Sheriff Road
Hyattsville, MD 20785
Get Driving Directions
Share this Obituary:
Support the family of
Walker Johnson