Eldyn Layne Ingerick
December 2, 1944 - September 27, 2021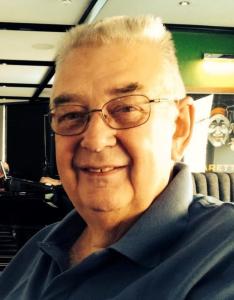 Eldyn Layne Ingerick returned to God September 27, 2021 at the age of 76. He was preceded in death by his parents Elwyn and Enid. Eldyn is survived by his beloved wife Nancy of 23 years; his daughters; Teresa and husband; Renee' Velasco and husband, James; Jill Jones and husband Rick; Beth Reynolds and husband Matt; Robin Ingerick; his grandchildren; Nicole, Jordan Jones, Katelyn Velasco, Jonathan Velasco, and Caleb Urrabazo; his sisters; Dayle Thorpe and husband, Steve; Marsha Dowell and husband, Joe; Rosalie Seals; his niece and nephews and extended loving family.
Eldyn earned his Bachelor's in Accounting from Stetson University, and his MBA from Indiana University. He served in the United States Air Force from 1966 until 1973, reaching the rank of Captain. Eldyn was a Certified Public Accountant since 1975 until he retired in 2017. He also served on several boards in Bulverde, TX including Commissioner for the Emergency Service District (ESD) #5 and Spring Branch-Bulverde Lions Club. Eldyn was honored to serve his country and his community.
Service will be held will be on Wednesday, November 3rd, at 10:15 AM at Fort Sam Houston National Cemetery, 1520 Harry Wurzbach Road, San Antonio, TX 78209. In lieu of flowers, memorial donations may be made to USO Warrior and Family Support Center, 3138 Rawley Chambers, San Antonio TX, 78234 https://sanantonio.uso.org/san-antonio-warriorcenteror The Center for the Intrepid, 3551 Roger Brook Drive, Fort Sam Houston, TX 78234 https://www.fallenheroesfund.org/donate.
November 3, 2021
10:15 AM
Funeral Service
Fort Sam Houston National Cemetery
1520 Harry Wurzbach Road
San Antonio, TX 78209
Get Driving Directions
Share this Obituary:
Support the family of
Eldyn Ingerick