Calvin Edward Crowell
May 12, 1926 - September 25, 2017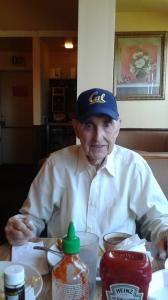 Born May 12, 1926 in Clarks, Louisiana son of the late Robert and Bertie (Tucker) Crowell. He leaves behind daughters Janet Quiggle, of Rocklin, CA, Carol Hurley of Wayland, MA, previously deceased son, James Crowell in 2009, and step daughter Linda Dickson of St. George, Utah.
Beloved brother of Raymond Crowell and his wife Sarah. Grandchildren Sheri Taff, Deana Greenough, Dan Pope Jr., Lynette Mandriques, Cindy and Ronald Barba, Jamie and Joshua Crowell, as well as Great Grandchildren Haley Barba, Taylor, Camryn & Noah Taff, Lyle & Lance Mandrigues, Gavin Adam & Cash Crowell. 3- Great Great Grandkids. He has several loving Nieces & Nephews.
He served in the US Navy during WW2 aboard the USS Houston CL-81. He retired from Chevron after 35 years of service. He was a charter member of the Assemblies of God in Richmond and El Sobrante.
Family and friends and invited to attend the service October 12th at 9 AM.
October 12, 2017
9:00 AM-10:30
Funeral
Smith & Witter
5145 Sobrante Avenue
El Sobrante, CA
Get Driving Directions
October 12, 2017
1:30
Burial
Sacramento Valley National Cemetery
5810 Midway Road
Dixon, CA
Get Driving Directions
Share this Obituary:
Support the family of
Calvin Crowell