Loretha Ann Brooks
December 13, 1958 - December 2, 2020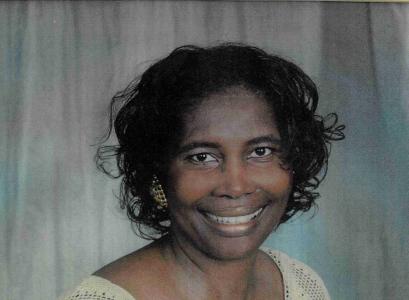 Deaconess Loretha Ann Brooks, 61, of Washington, DC, departed this life into eternal rest on Wednesday, December 2, 2020, at Suburban Hospital in Bethesda, MD.
Born December 13, 1958, in South Boston, VA, to the late James C. Fuller and survives by Sallie F. Samuel.

In addition to her mother, survivors include siblings Jacqueline A. Hall (June), James R. Fuller (Charlotte), Lawrence E. Fuller (Gaye), Steven R. Samuel (Hazel), Lillie M. Lee, John H. Samuel (Frances), George E. Samuel (Linda), Jean D. Samuel, Marjorie A. Henderson, Shermel V. Rock (John) and Wayne E. Samuel; sisters-in-law Ruby V. Thornton, Rosa M. Fuller and stepchildren Travis R. Brooks, Trayonne Brooks and Avis Ramos; goddaughters Beverly Reid, Sequoia Bridgeforth and Tiara Crowder and host of nieces, nephews, cousins, other relatives, and friends. She is preceded in death by her husband and best friend, Reginald L. Brooks; father, James C. Fuller; stepfather, James G. Samuel; brother, Melvin L. Fuller; stepbrother. James E. Samuel; stepsister, Lucille Johnson, and stepson, Reginald Brooks, Jr.
All services will be held at
R.N. Horton Company Morticians, Inc.
Wake: Friday, December 18, 2020, 6:30pm – 8pm
Visitation and Celebration: Saturday, December 19, 2020, 2-4 pm (invitation only)

Live Streaming available at
RNHorton.com
Brooks Program
https://www.paperturn-view.com/?pid=MTM132092

In lieu of flowers, please consider donating to a fund set up for her mother, Mrs. Sallie Samuel. Donations can be made via CashApp at $SallieSamuel or mailed to the following address:
The Greater Tried Stone Baptist Church
Deaconess Edie Olive
1363 Otis Place, NW
Washington, DC 20010
December 18, 2020
6:30-8:00 PM
Wake
RN Horton Chapel
600 Kennedy Streets, NW
Washington, DC 20011
Get Driving Directions
December 19, 2020
2:00-4:00 PM
Viewing & Service
RN Horton Chapel
600 Kennedy Streets, NW
Washington, DC 20011
Get Driving Directions
December 19, 2020
3:00-4:00 PM
Live Streaming
RNHorton.com
600 Kennedy Streets, NW
Washington, DC 20011
Get Driving Directions
December 19, 2020
2-4 pm/see link
View Brooks Program
https://www.paperturn-view.com/?pid=MTM132092
Washington, DC
Get Driving Directions
Share this Obituary:
Support the family of
Loretha Brooks